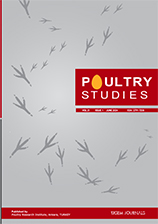 We release two-issue per year!
Poultry Studies was published biannually (June & December)

We are Indexed!
Poultry Studies is indexed in TÜBİTAK-ULAKBİM TR INDEX, DOAJ, Scientific Indexing Services databases.

APA 7th Edition is in use!
The authors are required to make a full and correct reference to other studies. 7th Edition of APA Citation guidelines for citation and bibliography should be taken into account.

Allows a wider poultry communication
"Poultry Studies" is the successor to the "Journal of Poultry Research". Poultry Studies has been developed to create a worldwide communication forum for poultry science research.

Complies with the Associate Professorship Application Criteria
Articles published in our journal meet the Article published in national peer-reviewed journals requirements by ULAKBIM (Turkish Academic Network and Information Center) and UAK (Turkish Republic of Inter-University Board Presidency) which are included in the applications for Associate Professorship.
Poultry Studies