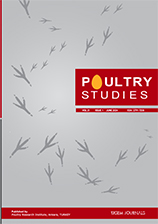 Poultry Studies
2018, Vol 15, Num, 1 (Pages: 013-017)
Antibacterial Use and Level of Resistance in Poultry: A Retrospective Study in North-Central and South-West Nigeria
1 Veterinary Council of Nigeria, Abuja, Nigeria
2 Department of Veterinary Physiology, Biochemistry and Pharmacology, Federal University of Agriculture, Abeoukuta, Nigeria
3 Department of Veterinary Medicine, Poultry Unit, Federal University of Agriculture, Makurdi, Nigeria
4 Department of Veterinary Pharmacology and Toxicology, Federal University of Agriculture, Makurdi, Nigeria.
-
There is no doubt that antibacterial agents have saved the human race as well as animals from deaths and sufferings due to bacterial diseases. However, bacterial resistance is a major threat to human and animals. The objectives of this study were to investigate the pattern of antibacterial use in poultry, and the level of resistance by common bacterial agents of economic importance in Nigeria. Pattern of antibacterial use in poultry practice in North-Central and South-West Nigeria were obtained from 150 questionnaires administered to practicing veterinarians, animal health workers and poultry farmers. Again, the level of antibacterial resistance was investigated employing laboratory results from three renowned veterinary diagnostic laboratories in the country where the rates of sensitivity as well as resistance were obtained. Among the commonly used antibiotics in poultry practice, doxycycline and oxytetracycline were the most frequently prescribed for chickens infected with common bacteria organisms. Well over 50% of the treatments with different antibiotics did not follow the specifications, including dosage regimen. Over 50% of Salmonella spp, Pasteurella spp, Avibacterium paragallinarum, Mycoplasma spp, and Escherichia coli clinical isolates from poultry were resistant to the commonly used antibacterial agents such as amoxicillin, ampicillin, colistin, gentamicin, tylosin, erythromycin, and enrofloxacin. The observed inappropriate use of antibacterial agents in poultry could explain the high prevalence of bacterial resistance to common antibacterial agents. Judicious antibacterial use in poultry practice is imperative in order to circumvent the emergence of resistant bacteria organisms, public health implications, and economic losses in poultry production.
Keywords :

Antibacterial drugs, Antibacterial resistance, Poultry, Prescription pattern